Fall 2010 Results
Fall Fowl Fest Info
2010 Grandpa Tiny's Frankenmuth Fowl Fest Show Results

Thank you for supporting the 2010 Fall Fowl Fest October 9-10, 2010, in Frankenmuth, Michigan.

Thanks to the North American Hamburg Society, Chantecler Fanciers International, American Brahma Club & Belgian Bearded d'Anver Club of
America for allowing us to host their national meets.

Judges: Jim Adkins (CA), Richard Hickman (NJ), Gary Overton (OH), and Michael Wasylkowski (DE)

We were happy to have 1,504 birds entered into competition by 172 exhibitors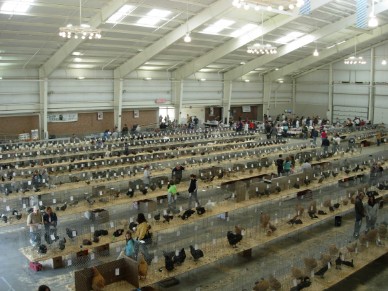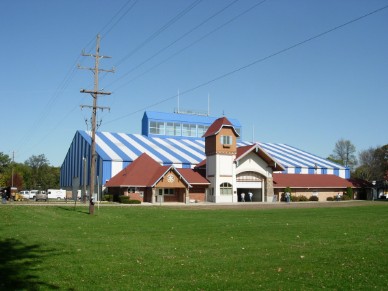 Open Show Overall Results

Grand Champion of Show, Champion Bantam, Champion Landfowl, and Champion Bantam Chicken was a White Cochin Pullet shown by Pat Lacey from Wisconsin

Reserve Grand Champion of Show, Reserve Champion Bantam, Reserve Champion Landfowl, and Reserve Champion Bantam Chicken was a Light Brown Leghorn Cockerel out of a Trio shown by Ken & Mary Aho from Michigan


Champion Large Fowl Chicken was a Light Brahma Pullet shown by Kim & Kendra Aldrich
Reserve Champion Large Fowl Chicken was a Black Australorp Cockerel shown by Scott & Teresa Anderson
Champion Waterfowl and Champion Duck was a Gray Call Hen shown by Ian Ulvin
Reserve Champion Waterfowl and Reserve Duck was a Cayuga Cock shown by Paul Ashbrook
Champion Goose was a Pilgrim Hen shown by Kershaw's Waterfowl
Reserve Champion Goose was an Embden Cock shown by Sarah Hage
Champion Guinea Fowl was a Pearl Cockerel out of a Trio shown by Ed & Kim Smith
Reserve Champion Guinea Fowl was a Pearl Pullet out of a Trio shown by Ed & Kim Smith
Champion Turkey was a Narragansett Cock shown by Sarah Hage
Reserve Champion Turkey was a Narragansett Hen shown by Sarah Hage

Champion Bantam Trio (ABA) was a Black Rosecomb Young Trio shown by William Patterson
Reserve Bantam Trio (ABA) was a Partridge Wyandotte Young Trio shown by Ken & Mary Aho
Champion Large Fowl Trio was a Light Brahma Young Trio shown by David Stuart
Champion Guinea Fowl Trio was a Pearl Young Trio shown by Ed & Kim Smith



Open Show Waterfowl Class Results

Champion Bantam Duck was a Gray Call Hen shown by Ian Ulvin and the Reserve Bantam Duck was a White Call Hen shown by MJ Waterfowl


Champion Light Duck was a White Runner Cockerel shown by Scott Dean and the Reserve Light Duck was a Blue & White Magpie Cock shown by Ian Ulvin


Champion Medium Duck was a Cayuga Cock shown by Paul Ashbrook and the Reserve Medium Duck was a Cayuga Pullet shown by Kershaw's Waterfowl


Champion Heavy Duck was a Rouen Hen shown by Andrew Jasman and the Reserve Heavy Duck was a Pekin Cockerel shown by Bill & Linda Squile

Champion Light Goose was a Brown Chinese Pullet shown by Joshua Bukoski


Champion Medium Goose was a Pilgrim Hen shown by Kershaw's Waterfowl and the Reserve Medium Goose was an American Buff Cock shown by Lacey Dean


Champion Heavy Goose was an Embden Cock shown by Sarah Hage and the Reserve Heavy Goose was a Gray Toulouse Cock shown by Ian Ulvin

Open Show LF Chicken Class Results

Champion A.O.S.B. was a Black Ameraucana Cockerel shown by Rick Straight and the Reserve A.O.S.B. was a Red Pyle Modern Game Pullet shown by Bill Wulff


Champion American was a Silver Laced Wyandotte Pullet shown by Kershaw's Waterfowl and the Reserve American was a White Chantecler Pullet shown by Greg Oakes


Champion Asiatic was a Light Brahma Pullet shown by Kim & Kendra Aldrich and the Reserve Asiatic was a Light Brahma Cockerel shown by Ian Ulvin


Champion Continental was a Silver Spangled Hamburg Pullet shown by Clay & Laura Mills and the Reserve Continental was a Silver Spangled Hamburg Pullet shown by Clay & Laura Mills


Champion English was a Black Australorp Cockerel shown by Scott & Teresa Anderson and the Reserve Champion English was a Buff Orpington Pullet shown by Scott & Teresa Anderson


Champion Mediterranean was a Single Comb Black Minorca Hen shown by Clay & Laura Mills and the Reserve Mediterranean was a Single Comb Dark Brown Leghorn Hen shown by Sarah Frank

Open Show Bantam Chicken Class Results

Champion A.O.C.C.L. was a Black Breasted Red Cubalaya Cock shown by Josh Hoffman and the Reserve A.O.C.C.L. was a Partridge Chantecler Cockerel shown by Michael K. Gilbert


Champion Feather Leg was a White Cochin Pullet shown by Pat Lacey and the Reserve Feather Leg was a Buff Brahma Pullet shown by Kim & Kendra Aldrich


Champion Modern Game was a Brown Red Modern Game Cockerel shown by Cliff Troxell and the Reserve Modern Game was a Birchen Modern Game Cockerel shown by Cliff Troxell


Champion O.E.A.G was a Wheaten Old English Hen shown by Jennifer Wulff Frank and the Reserve O.E.A.G was a Black Old English Pullet shown by Dwight & Dustin Morgan


Champion R.C.C.L was a Black Rosecomb Pullet shown by William Patterson and the Reserve R.C.C.L was a Silver Spangled Hamburg Pullet shown by Dwight & Dustin Morgan


Champion S.C.C.L was a Light Brown Leghorn Cockerel out of a Trio shown by Ken & Mary Aho and the Reserve S.C.C.L White Plymouth Rock Hen shown by Paul Ashbrook

Junior Show Overall Results
(Thanks to Kim Smith for helping to judge the Junior Show)


Grand Champion of the Show, Champion Landfowl and Champion Large Fowl Chicken was a Single Comb Red Rhode Island Red Cockerel shown by Charlie Martyn.

Reserve Grand Champion of the Show, Champion Bantam (ABA), Reserve Champion Landfowl, and Champion Bantam Chicken was a Black Old English Hen shown by Brianna Brunschon.

Reserve Champion Bantam (ABA), Champion Waterfowl, and Champion Duck was a Gray Call Hen shown by Ian Ulvin


Reserve Champion Bantam Chicken was a Black Cochin Cock shown by Two Brothers Poultry
Reserve Champion Large Fowl Chicken was a Light Brahma Cockerel shown by Ian Ulvin
Champion of Geese, Guinea Fowl, and Turkeys was a Royal Palm Hen shown by Brandon Borke
Champion Goose was a Gray Toulouse Hen shown by Ian Ulvin
Champion Turkey was a Royal Palm Hen shown by Brandon Borke
Reserve Champion Turkey was a Narragansett Cock shown by Devon, Shelby, and Alex Dean
Champion Guinea Fowl was a Lavender Pullet shown by Jay Williams
Reserve Champion Guinea Fowl was a Pearl Hen shown by Kaycee & Jacob Roberts (KJ Poultry)

Junior Show Waterfowl Class Results

Champion Bantam Duck was a Gray Call Hen shown by Ian Ulvin and the Reserve Bantam Duck was a White Call Hen shown by Ian Ulvin


Champion Light Duck was a White Runner Cock shown by Lucas Andrews and the Reserve Light Duck was a Welsh Harlequin Cockerel shown by Andrew Jasman


Champion Heavy Duck was a Rouen Hen shown by Andrew Jasman and the Reserve Heavy Duck was a Saxony Cock shown by Devon, Shelby, and Alex Dean

Reserve Medium Goose was a White Sebastopol Cock shown by Brandon Borke


Champion Heavy Goose was a Gray Toulouse Hen shown by Ian Ulvin

Junior Show LF Chicken Class Results

Champion A.O.S.B. was a Black Breasted Red Malay Cockerel shown by Melissa Williams and the Reserve A.O.S.B. was a Silver Phoenix Hen shown by Devon, Shelby, and Alex Dean


Champion American was a Single Comb Red Rhode Island Cockerel shown by Charlie Martyn


Champion Asiatic was a Light Brahma Cockerel shown by Ian Ulvin and the Reserve Asiatic was a Light Brahma Cockerel from a Trio shown by Ian Ulvin


Champion Continental was a Non-Bearded White Crested Black Polish Hen shown by Sarah Frank and the Reserve Continental was a Silver Spangled Hamburg Pullet shown by Charlie Martyn


Champion English was a Buff Orpington Cock shown by Kiley Carpenter and the Reserve English was a Black Australorp Pullet shown by Jeff Dempsey


Champion Mediterranean was a Single Comb Dark Brown Leghorn Hen shown by Sarah Frank and the Reserve Mediterranean was a Single Comb Dark Brown Leghorn Hen shown by Sarah Frank

Junior Show Bantam Chicken Class Results

Champion A.O.C.C.L. was a Dark Cornish Cockerel shown by Emily Carpenter and the Reserve A.O.C.C.L. was a Partridge Chantecler Pullet shown by Ella Stiefvater


Champion Feather Leg was a Black Cochin Cock shown by Two Brothers Poultry and the Reserve Feather Leg was a Bearded White Silkie Pullet shown by Emily Ruszkiewicz


Champion Modern Game was a Red Pyle Modern Game Cockerel shown by Sarah Williams and the Reserve Modern Game was a Red Pyle Modern Game Pullet shown by Sarah Williams


Champion O.E.A.G was a Black Old English Hen shown by Brianna Brunschon and the Reserve O.E.A.G was a Black Old English Cock shown by Brianna Brunschon


Champion R.C.C.L was a Quail Belgian Bearded d'Anver Hen shown by Emily Straight and the Reserve R.C.C.L was a Black Rosecomb Pullet shown by Sara Sollman


Champion S.C.C.L was a Silver Phoenix Pullet shown by Alair Bergman and the Reserve S.C.C.L was a Single Comb Red Rhode Island Hen shown by Eike S Krebs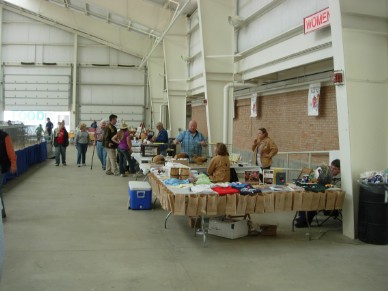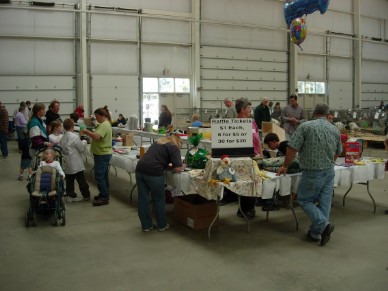 Youth Showmanship Results

Emily Straight judged 13 Novice Showmen, aged 9 and under - including one 2 year old!
Alison Horne won, with Gretchen Wylie second, and Amber Bennett third.

Rick Straight judged 17 Junior Showmen, aged 10 to 12.
After a breaking a close tie for the top three spots, Christopher Ruszkiewicz of Wisconsin won, with his sister Emily Ruszkiewicz in second place, and Zach Drach third.

Amy Straight judged 17 Intermediate Showmen, aged 13 and 14.
After breaking a three-way tie between Jacob Pewinski, Mark Ugo, and Libby Venema, third place went to Libby Venema. There was also a tie between Ben Drach and Rachel Wylie . Ben Drach placed second, and Rachel Wylie won first place.

Lucas Gabbard judged 25 Senior Showmen, aged 15 to 18.
Emily Carpenter came in third, with Brandon Borke in second place. Leila Dean won first place.